EMG: effective business communications
EMG is a leading international communication consultancy specialised in media relations and integrated marketing communications for industrial companies. Using our industry knowledge, communications expertise, and international reach we tell your story and engage with your audiences in a compelling way.
OTHER EMG ACTIVITY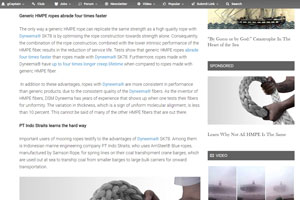 'Native content' programme maximizes exposure for DSM Dyneema
DSM Dyneema has a unique product for the maritime/offshore industry and wanted to leverage digital marketing techniques to reinforce and expand its brand in this key sector. So it turned to EMG for both advice and execution.